In this article you will learn how to access your Assessment & Evaluation Tasks
Learners have quick access to review their assessment and evaluation tasks through the Assessment & Evaluation Tasks icon located in the upper right-hand corner of the screen.
Click the Assessment & Evaluation Task icon (bulleted list icon) in the top right beside the user icon button.

A series of tabs will be available under the Assessment & Evaluation (A&E) header.
When viewing results on any of the tabs in A&E, use the search bar to look for a specific task by name and click the down arrow to limit your results by applying search filters like distribution method (date range, delegation, learning event, rotation schedule), curriculum period, course, and task status (pending, in progress, completed).

Apply start and end dates to limit your results to a specific time frame.
Remember to click Apply Filters to apply your choices.
Remember to click Remove Filters to clear filters and view all results.
Note that your previous filter settings may still be applied, so if you are seeing no results, or fewer results than you expected, try clicking Remove Filters.
Assessment Tasks Tab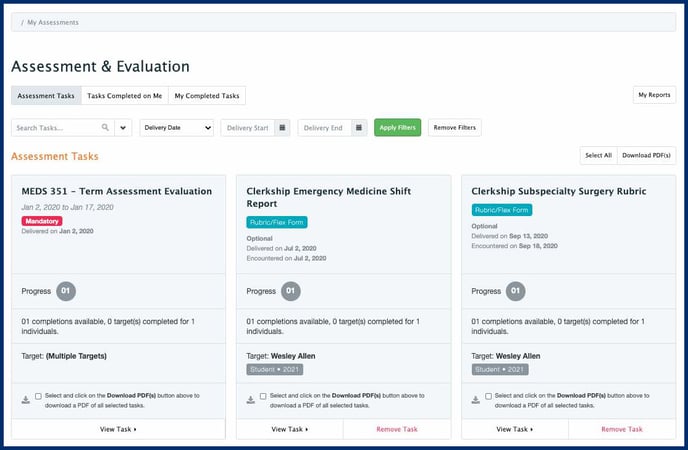 Assessment Tasks Tab:
This tab shows users all pending tasks for which they are responsible.
Learners can view and complete a task by clicking on View Task. See the knowledge base article on Complete an Assessment & Evaluation Task.
Learners can remove a task by clicking Remove Task and providing a reason for its removal (if permitted).
Learners can download individual or multiple tasks by clicking the download checkbox on each card and then clicking Download PDF(s) at the top right. When users do this, they will be able to choose whether to download all tasks as one file or as multiple files.
Tasks Completed on Me Tab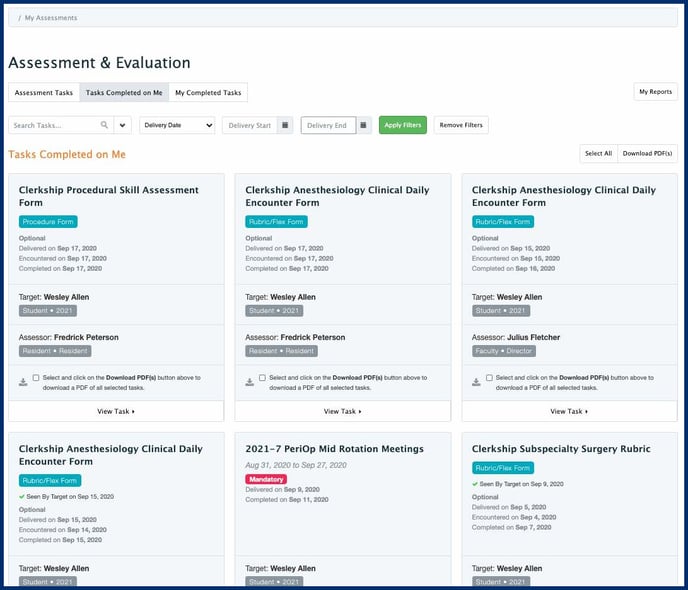 Tasks Completed on Me Tab:
This tab displays all tasks completed on the learner, if they have been given access to to view them. This is controlled by an administrator.
My Reports: To view information from forms completed on oneself, the learner can click My Reports on the right hand side.

Set the date range.
Remember that the creator of a distribution (adminsitrator) can set whether a learner can view reports on a distribution, so not every distribution completed on a learner is available for the learner to view.
My Completed Tasks Tab
My Completed Tasks Tab: The learner can view all completed tasks and again, download an individual file or download multiple files at once.