In this article you will learn how to access the instructor profiles that have been made visible to you, the learner.
The Manage Instructors module is a place to store data of Faculty Users that are considered Clinical Faculty Members (Instructors). It is a repository for Clinical staff and Learners to locate Instructor information. This preceptor information is particularly useful when participating in a lottery in Elentra.
In the clinical year context, Instructors are typically preceptors that could be associated with a Rotation.
Step 1: Click on your User Icon in the upper right hand corner of the page to open the User Icon menu.

Step 2: Click on Instructors. This will bring you to the Instructors page. From this page you can
search the list of instructors by keyword. Note that only certain instructors will have beenve been made visible to you.
sort the list by

Name
Curriculum Tracks
City
State/Province
Location Status
Expiration Date
Ascending/Descending Order

filter the list by

Curriculum Track
City
Stat/Province
Status
Agreement Status
Instructors
Curriculum Tags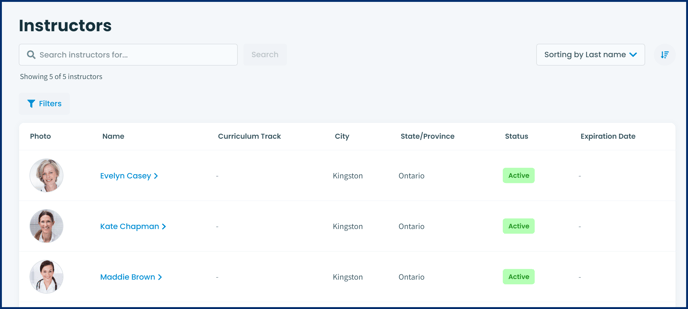 Step 3: Once you find the instructor you are looking for click on the name of the instructor to open up the detailed view of the instructor's profile. On this page you will be able to view the following if that information has been added to the instructor's profile:
the instructor's profile picture
the contact(s) for the instructor
the tags that have been applied to the instructor
your scheduled rotations with that preceptor
the locations the instructor is affiliated
any agreement and the status and expiration date
totes that the admin or instructor have left for learners