November 1st, 2022 Elentra Releases
New Improvement:
Release to production effective November 8th, 2022.
Learner's Rotation Schedule visuals will now include Rotations, Locations, and Instructors.
Admin's adding or editing a booking on a Learner's Rotation Schedule will now be able to see its Rotation, Location(s) and Instructor(s) for easier identification.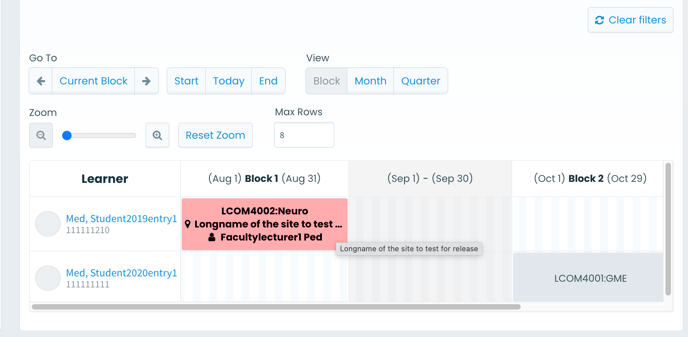 Learner Explorer Grades will display Multiple Curriculum periods per Course for Repeating Students
The learner explorer will display all grades of a student repeating their academic year by displaying multiple curriculum periods per course.
Block email domain from external assessors' tasks in distributions
Admin's can now block email domains from external assessors' tasks in distributions.
To add the email domains to be blocked, a MedTech Admin must use the URL below with your specific institution's instance:
https://[client instance].elentra.cloud/admin/blockemaildomain
There the Admin can add the email domain, such as your institutional domain, or any domain of choice to be blocked.
Once the above-listed step is completed, if a student goes to the Assessment and Evaluation Badge to view their tasks and tries to add an assessor to the list with an email that the domain is blocked by the System admins, the student will see the message prompting the email domain is blocked.
If you have any questions about the above-listed information, please contact support@elentra.com.